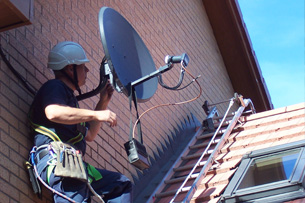 It is advisable to consult with an expert DSTV dish installation Durban team-and that is the reason we're here- prior to choosing aerial and satellite dish products. We will take you through the most in-depth details to assist you avoid unnecessary charges sometime in the future. The kind of dish installation service you settle for will determine your viewable digital broadcasts number, as well as the TV programming in general.
It is important to find out about the different available models, like it reception capabilities and other characteristics, before choosing your dish. All these will determine your viewing experience. The option which is the cheapest in the market will at many times be prone to water damage and may have a useful life of 18 months tops. Additionally, frequent picture breakup during bad weather might be something you'll have to be accustomed to. In our list of products, we have those that are unaffected by wind and will still maintain the best picture quality so that you no longer have to be frustrated.
It's vital to not only install a superior quality dish, but also to make sure you do it in a manner that will allow it to capture strong signals regardless of the weather conditions. A number of companies have had the reputation for poor workmanship and in many times our Durban satellite dish installers have had to step in to re-do the dish installations and precision alignment. It is especially vital if you're considering going for HD transmissions. Small dishes are undesirable here, we instead advise clients to opt for our 70 cm HD dishes.
Maybe you are thinking of installing a DSTV dish on your own? Don't risk it, but instead let us the professionals to handle the installations! No one else offers quality services at affordable prices like us, or DSTV dish installation price is just unbelievable. Because of our expertise in DSTV dish alignment, rest assured you will have the best signal reception and viewing pleasure. Our services cover all issues related to dishes like:
– DSTV satellite receiver/dish tuning.
– Removal and reinstallation of Satellite dishes
– Twin LNB and LNB option (as per your requirements)
– Dish alignment / dish direction
Get in touch with our affordable DSTV satellite dish installations Durban service on 087 551 0816 for more details!
Leading TV Aerial Installations in Durban
Our accredited Durban-based company offers top quality TV aerial installation services that will ensure you receive not only digital channels, but also terrestrial ones. We'll install the most appropriate aerial for your premises and direct it in such a way that you get the best signal quality and enjoy the TV viewing experience that follows. Through the use of the appropriate amplifiers, attenuators, and power suppliers, we ensure you never get to experience any fuzzy reception. It is possible for our TV aerial installation Durban service to have your different TVs showing different simultaneous channels, if it's what you want. We additionally offer communal aerial and satellite dish installations for businesses, apartments, and offices.
Alignment & Installations of LNB
The LNB is often the most overlooked DSTV setup part which can result in a number of problems when it comes to watching certain channels. As an approved LNB installer in Durban, our engineers will appropriately connect your dish to the decoder thus avoiding any reception loss.
To provide you same-day services, our aerial and PTA satellite services is accessible each day of the week. Should you be facing some issues with your dish, you can as well contact us for aerial and dish repairs. For more details, call Durban call out team on 087 551 0816 today or use our page's contact form to email us and we get back to you at the shortest time possible.